Poems on Poetry Foundation
Poems on Academy of American Poets
"Io," "Tiresias" and "Philomela," Narrative Magazine
"What is the Smell of a Circle?,"  The New Yorker
"Nightingale: A Gloss," American Poetry Review
"Gokstadt/Ganymede," Michigan Quarterly Review
"Baucis and Philemon," Narrative Magazine
"When It Is Over, It Will Be Over," Poetry Society of America
"Birthday Poem," New England Review 
"Murano," The New Republic
"Happiness" The Slowdown
"Portrait of D17: Female, 37 Years Old," The New York Times Magazine
The 2022 Blaney Lecture, Academy of American Poets, "Beyond Empathy, Beyond Archive: Notes on Poetic Representation"
Bennington Writing Seminars Commencement Address, January 2021.
"24 Hours in America: Utah," The New York Times
"Strange Meetings: The Problems of Poetry, Representation and War," The Writer's Chronicle (AWP membership required to read)
"Iphigenia in Afghanistan: Notes on Women and War," The Sewanee Review (must subscribe for complete essay)
From "Just Wars, Punishable Bodies," Copper Nickel
"The Erotic Wounds of War," New England Review (ProjectMuse link)
"Wounded Elders: On Racial Identity and Reviewing," The Margins
Excerpt from The Broken Country, Blackbird
"A Sport of Restraint," Los Angeles Review of Books
"American Service," Poetry Foundation
"The Lives of Strangers," Broad Street Magazine.
"Biracial Rage" DiaCRITICS.
Excerpt from The Night My Mother Met Bruce Lee, Penguin/Random House Canada
West: A Translation is a book-length work commissioned by Utah's Spike 150 organization to commemorate the 150th anniversary of the transcontinental's completion in Promontory, Utah. 
West: A Translation was also featured on the PBS show "The Future of America's Past," which did a segment on the building of the transcontinental railroad.  
Mapping Literary Utah is a web archive of Utah writers, past and present. It contains the biographies, videos, and critical essays of over 240 poets and writers.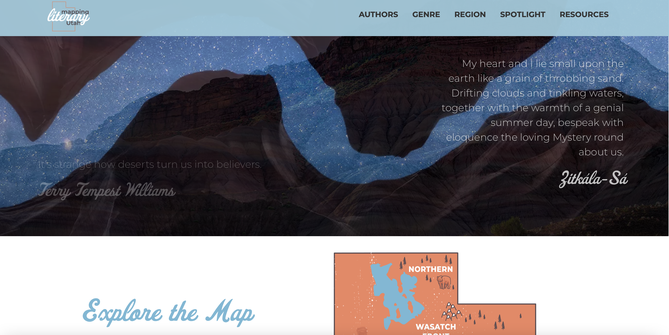 Mapping Salt Lake City is a community-created archive of place based on Rebecca Solnit's Infinite City project. Mapping Salt Lake City documents Salt Lake's many historical and demographic changes through art, critical and creative literature, and maps.